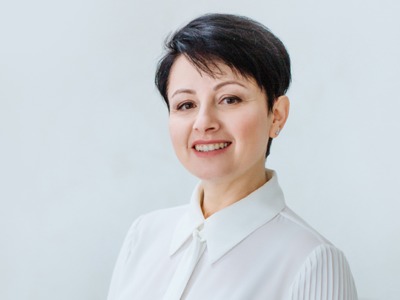 Family and business mediator. Lawyer with more than 20 years practical experience in courts of general jurisdiction. NGO "League of Mediators of Ukraine" co-founder. Social project coordinator for cooperation with the Kyiv District Children's Services.
Education:
Kyiv National Taras Shevchenko University. Degree: specialist lawyer, 1997.
Institute of Postgraduate Education of Kyiv National Taras Shevchenko University and the Academy of Judges of Ukraine, advanced training at the course "Justice", 2003.
National School of Judges of Ukraine, advanced training and program training for judges of local general courts, special course "Evidence and Evidence in Criminal Proceedings in the Court of First Echelon ", 2014.
Training on specialty "mediation", "family mediation", "business mediation":

IHK Akademie Munich und Oberbayern
Business-mediator, Chamber of Commerce and Industry of Munich and Upper Bavaria (2017)
Kyiv Mohyla Business School (kmbs)
Mediator, Family Mediation (Kyiv, 2017)
Mediator, Basic Mediator Skills (Kyiv, 2016)
Mediator, Direct consultations with children in family mediation (Kyiv, 2018)
Experience:
Experience in commercial and public institutions. Including the last fifteen years as a judge of the Obolonsky District Court of Kyiv. NGO "League of Mediators of Ukraine" co-founder ", Mediation Center, Kyiv Chamber of Commerce mediator and a participant in the social mediation project, as a social service of the NGO "Mediator League of Ukraine" and Children's Services, Social Services of the Kyiv District State Administrations and Kyiv-Svyatoshinsky District State Administration.

Personal achievements:
During a short period of time as a mediator has a number of successful cases and grateful clients.
Additional information:
Specializes in solving family disputes, trade disputes, construction, production, service provision, collective and individual labor disputes.
Membership in professional associations:
Business mediator of the Kyiv Chamber of Commerce
Kyiv Attorney's Association
Working languages:
Ukrainian, Russian